The Footbridge North hotel is our little slice of paradise. We are the first hotel south of the Route 109/9 & Rt 1 intersection. When the traffic is heavy, you'll enjoy our easy in/easy out access. The hotel property, while close to everything, is very deep providing our adult guests with a peaceful resting spot just behind the hustle and bustle of the night life. Our pool is located at the very back of the property hidden from view. Many of our guests have enjoyed mingling with each other and sharing a glass of wine before venturing out to one of our local American and International cuisine restaurants. The Footbridge North Hotel's layout provides a high level of privacy, safety and security.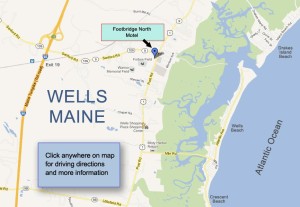 DIRECTIONS FROM POINTS NORTH OR SOUTH USING ROUTE 95 (The Maine Turnpike)
Take Exit 19, the Wells/Sanford exit, off the Maine Turnpike (Interstate Rt. 95)
Take a left at the traffic lights immediately after toll booth (Route 109 / 9 – Sanford Road)
Drive 1.4 miles until you reach US Route 1 (Wells Fire Department will be across the street)
Take a right on to US Route 1.
Drive 1/10th (0.1) of a mile and look for us on the right hand side
Look for either our granite sign or the frontage building.
Turn right into the driveway and proceed to the main lodging building in the back.

Or take the train! The Wells Amtrak "Downeaster" station is conveniently located at exit 19 off I-95 about two miles from Wells Beach.
Google+