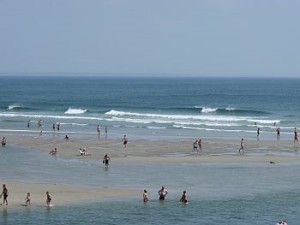 Wells, known as the "The friendliest town in Maine" is the home of the Footbridge North Hotel. Our "relaxing little hotel by the sea" is located in the center of Wells with easy access to the I-95 highway (something you will be very happy to have), Amtrak and close to many nearby attractions. As part of our focus towards the adult traveler, we have listed many activities and attractions below that are well suited to couples and friends with an adventurous spirit!
The call to Maine beaches is what makes our part of the world unique and special. Wells has several beaches, the largest of which is Wells Beach. You can reach Wells Beach by taking a short drive or by taking the Seacoast Explorer trolley service during the seasonal months that it is in operation.Drakes Island Beach, Moody Beach, Footbridge Beach, Ogunquit Beach, Kennebunk Beach and several smaller beaches are within a short drive and are all great places to gather in the summer sun and Indian Summer days in the Fall.
---
Spa and Massage: We love our neighbors and so will you! Reserve a couples message or a manicure and pedicure while your mate relaxes by our pool. Located right next door to the Footbridge North Hotel is Your Body Works Massage and Day Spa.
Work Out and Stay fit: Get your "groove" going at SeaCoast Fitness.  Seacoast welcomes seasonal guests.  The facility is approximately 4000 sq. ft., caters only to adults and includes cardio equipment, "selectorized" strength machines and a separate free weight area.  They offer personal training, group exercise, Silver Sneakers Programs & Spinning.
Bike and Kayak Rentals: Wheels n Waves specialize in surf, bike, skateboard and paddleboards (SUPs). They offer sales, rentals, lessons, camps and repairs and carry the top brands at the best prices.
---
Natural Alternatives – Wells is centrally located with easy access to beaches and area attractions.
With several natural preserves within a few miles of the Footbridge you can easily find places to hike, birdwatch, or just to enjoy a moment away from the beach. The wildlife and scenery is amazing! You may run across the Snowy Egrets and Great Blue Herons that feed and pass through the salt marsh.  Marvel!
Rachel Carson National Wildlife Refuge was established in 1966 in  cooperation with the State of Maine to protect valuable salt marshes and estuaries for migratory birds. Visitors can enjoy hiking, hunting & fishing and use our canoe and Kayak launch sites. See our web site for educational events.
Wells Reserve at Laudholm Farms The Wells Reserve at Laudholm is a National Estuarine Research Reserve with its headquarters listed on the National Register of Historic Places.
Laudholm Nature Crafts Festival   This nationally recognized, award winning juried craftsman's show is held the second weekend in September. Located only 3 miles from our hotel, the event is held at the Wells Reserve.
"We stayed with you last year when we participated in the Laudholm Trust craft show. Had a wonderful stay in your clean and updated hotel. Looking forward to working the show and see you again this year." Charlene Donohoe, Juried Artist
---
Amusement activates for the family:
Miniature Golf: Wells Beach Mini-Golf at the Wells Beach Resort offers a 18-hole, Par 42 golf course plays true and features an array of terrain including Gardens, Running Streams, Ponds, a roaring Cave under a 25-ft. Waterfall, Bridges, Fountains, plus many other amusing surprises (watch out for the shark!). Get a chance to win a Free Game with any Hole-In-One! Wheelchair-accessible for the first nine holes.
---
Golf courses:
The 9-hole par 3 golf course at the Merriland Farm Golf facility in Wells, Maine features all the hallmarks of true Maine golf. Designed by James Morrison, the golf course opened in 1992. Donny Sayward manages the course as the golf professional
Old Marsh Country Club— one of GOLF Magazine's Top 10 Best New in America (2008) and ranked Top 10 Best in New England by New England Golf Magazine
Founded in 1899, Webhannet is a 6100-yard par 71 course featuring serpentine fairways, tidal-fed water hazards and undulating greens that challenge and tempt golfers of all handicaps.  In June the lush fairways seem to lengthen the course by 500 yards, while late summer "roll" can yield a low score that entices you back.
---
"One if by land! Two if by Sea!" Pick your adventure –
By Rail:
Wells is fortunate to have a designated train stop on the Amtrak Downeaster line. You could spend a day of adventure in Boston (baseball, museums, shopping, the Duck Tours on the River Charles!) to our south or head north and visit Portland (Micro breweries, museums, city walks and shopping!) or Freeport (L.L. Bean, lobster rolls, outlets, outlets, outlets!). If you're really up for a serious adventure, there are miles and miles of train destinations on the Downeaster. Switch up a beach day for a land day and avoid seasonal traffic!
On-the-Sea:
Whale Watching:  Come aboard Nick's Chance, for a  4 1/2 hour Whale Watch adventure. Cruise 20 miles in to the Atlantic Ocean to view Whales, Dolphins, and the marine life of The Gulf of Maine. Or join us for a 1 1/2 hour Scenic Lobster Tour on Kylie's Chance down the Kennebunk River and along the Kennebunkport coastline. You will see seals, former President Bush's home, and how "world famous" Maine Lobster is harvested. Both cruises will make your vacation unforgettable.
Kayak Rentals and Tours: Webhannet River Kayak Rentals, World Within Kayak Rentals,  & Southern Maine Coast Kayak Tours
Three Ladies Fishing Charters, join Captain Mark Driscoll is the owner and captain of the fishing vessel, Three Ladies. He holds a 100 Ton U.S.C.G. Master's License and is a Registered Maine Guide.
Sage Fishing Charters:  Enjoy a great day of deep sea fishing in Wells, Maine with registered Maine Guide and United States Coast Guard Captain Peter T. Sage aboard his 27 foot Grady White "Iona's Working" which has a full cabin with head and plenty of space to relax
Lethal Weapon Fishing: offers privately, chartered fishing trips and cruises for your family, friends or group so that you may enjoy the thrill and adventure of coastal and deep sea fishing for striped bass fishing, cod fishing, bluefish fishing, tuna fishing, haddock fishing, pollock fishing, shark fishing and other ocean fish.
Sea Gar Charters: Come aboard the Sea-Gar for a full day, or half day of deep sea fishing for Striped Bass, Blue Fish, Mackerel, Cod, Haddock, Pollock, Cusk, and Shark. Sailing out of the Wells, ME pier on our 2003 Shamrock 246 by Captain Dan Durgin, we know where the big fish are, and will always bring you right to them
---
Culture – The Wells area offers many cultural opportunities for family activity. 
Wells Auto Museum: In 1946 Glen and Judith Gould were given a Stanley Steamer, over the years the collection grew and eventually the Gould's decided to open their first museum in Meredith New Hampshire.  By the late 70's they had outgrown that space and moved the collection to their current location in Wells.
Seashore Trolley Museum: Come and visit the largest and oldest museum of mass transit, where you get to relive history and follow the footsteps of generations past.
Ogunquit Playhouse: The Ogunquit Playhouse produces five exciting Musicals each season, with performances Tuesday through Sunday from late-May to late-October. The Ogunquit Playhouse, a not-for profit organization, remains unparalleled in its commitment to provide the highest quality musical theatre, with the best talent in the industry! We have partnered with the Ogunquit Playhouse and will be offering specials. Look for updates or drop us a note with any requests at info@FootbridgeNorth.com
Harbor Park Concerts: All concerts are held at the Hope Hobbs Gazebo at Wells Harbor Community Park and begin at 6:30 p.m. *FREE Admission*
---
Restaurants –
Billy's Chowder House, Varano's Italian Restaurant, The Steakhouse, Joshua's Restaurant, Congdon's Restaurant, The Maine Diner
Google+